Aspen's First Recycling Center | The Thrift Shop
Fashions fade. Style is eternal said Yves Saint Laurent. No other person or store could capture that motto better than the Aspen Thrift Store. Based in one of the wealthiest tourist towns in the world, one of the
140
volunteers never know what they are going to get, nor do the customers. However, there is no doubt, whether you need an
80
's one piece ski suit or a new hand bag the massive influx of items to Aspen's Thrift Store will have you covered.
With new items coming in everyday, volunteers will tell you about any number of big money items that have entered the store, however, often times, those items never make it to the floor to sell. Rather, they are appraised or brought to local historical societies, art galleries or brought back to hand bag stores; ​
"
Board secretary Ellen Walbert said there was an instance in which someone had dropped off some Louis Vuitton bags… they went to the local retail store and found out that not only were they real but that they were part that year's collection, and subsequently worth hundreds of dollars" (Sackariason).
However, the Aspen Thrift Shop isn't all glitz and glamour, at the end of the day, these volunteers are working to give back to the community and it started in
1949
. Aspen's hospital, which was a victorian house at the time, was in dire need of more nurses. Finding them was not a problem but paying them was. Month's later Aspen's thrift store was born.. After raising $
1
,
000
in their first year, allowing the hospital to hire a third nurse, everyone realized the Aspen Thrift Shop was here to stay, for the betterment of the community. After moving locations around town a few times, the non-profit has settled on
422
E. Hopkins Ave, right next to the Aspen Fire Protection District where they pay $
10
a year for rent.
Since
1949
, their mission has, for the most part stayed the same, to sell donated items to give back to the community. Today, their formal mission statement reads; ​
"
to sell donated goods at affordable prices, to engage in community-building activities, to make grants to other nonprofit organizations in the Roaring Fork Valley and to provide scholarships to Roaring Fork Valley high school graduates" (
Aspenthrift​shop​.org
).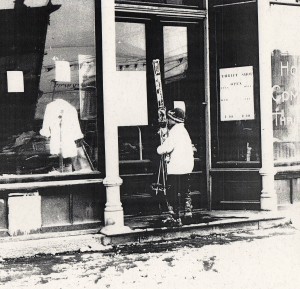 And that it has! In the last
15
years it has raised
3
.
5
Million dollars to support the up and coming college students. The team over at the Aspen Thrift shop continues to impress; ​
"
In May and June, the Thrift Shop made scholarship grants to six deserving students from Aspen, Basalt and Roaring Fork high schools. It also made a positive financial impact for
25
valleywide nonprofit organizations"(Gallagher).
So the next time you come into Aspen and after you get settled in with all of your ski gear from Ski Butlers, it will leave you with plenty of time to head over to the Aspen Thrift shop so you can search for your next
80
's one piece ski suit and also feel good about giving back to the Roaring Fork Valley community.
Sources:
Gallagher, R.J., ​

"

The Thrift Shop: Always in Style", www​.aspenthrift​shop​.org/ June,

2013

Sackarison, Carolyn, ​

"

Getting Thrifty With it", www​.aspendai​lynews​.com/ December

2013